Here's a look at a few of the best and brightest gift ideas for gamers in the family.
Peripherals
Let's start with the equipment that will certainly help bring the gaming experience to life.
M50Q7 (Vizio, $399.99) — The price of a flat-screen monitors continues to plummet, and a big decision is how to best serve a gamer looking for a manageable screen size to enjoy his virtual adventures that will comfortably fit in either his condensed man cave or bedroom.
Vizio's excellent M-Series Quantum Smart QLED TV is a great choice for a mid-range, ultra-high definition visual experience with plenty of bells and whistles themed for the game player or movie lover and coming in at a killer price for the gift giver in a 50-inch screen size.
Start with the most important part, a gaming engine that detects when a game is being played and automatically optimizes the action.
The TV magic synchronizes the variable refresh rate for smoother visuals (with supports of up to 4K/60Hz playback), accelerated response time and reduced input lag to enhance picture detail and allow players to react faster (especially when required for first person shooters). The result is an immersive 4K HDR gaming experience even adding Dolby Vision to auto tweak color, contrast and brightness.
Other features worth noting for the player, when not buried in online action, is cinematic color volume with more than a billion hues of vibrant color; added detail in highlights and lowlights at up to 600 nits of brightness; motion clarity with 120 dynamic motion rate; and backlight scanning and compatibility with a variety of high dynamic range formats, including HDR10, HDR10+ and Dolby Vision and a two-channel, 20-watt onboard speaker system.
Movie and episodic show-watchers get the SmartCast home entertainment system with full access to familiar apps such as Netflix, Hulu, Disney+ and YouTube TV; built-in Chromecast and Apple AirPlay 2 compatibility to share content directly to a smartphone, tablet or laptop; and the TV works with Hey Google, Siri or Alexa-enabled devices to use voice to control your TV.
The TV gets connected via Wi-Fi or ethernet port or cable tuner, and the set includes 4 HDMI (one ready for 2.1 HDMI) inputs,
For an unthinkable price of $400, owners can have a relatively compact but truly immersive gaming and cinematic experience.
Impact (Scuf Gaming, starting at $149.99) — Only the most serious of PlayStation 4-owners will be worthy to receive as a gift one of the most flexible premium rechargeable wireless controllers in the history of video gaming.
Built-to-order by Scuf technicians, this weighty, big-hands friendly design acts like the older, more mature brother of the PS4 DualShock controller and comes loaded with customizable options.
That translates into four paddles underneath the controller (programmed to the four action buttons with electro-magnetic, on-the-fly remapping capabilities); adjustable side triggers with stop and hair-trigger tension settings; side-trigger extenders; interchangeable thumbsticks (five size options to change in seconds); directional pad and military grade textured as well as high performance rubberized grips.
As far as the look, buyers can select from more than 67 shell color schemes ranging from Gold Dragon (an imprint mimicking scales) to Rebel (an orange and red imprint with "Star Wars" style space vehicles in flight) and Carnage (black, white and a bloody red near dripping from the controller), 18 action button colors, 10 ring colors and a pair of colors for the paddle kit.
A perfect example of slick is the Ghillie Camo ($214.94) controller offering splotches of various shades of olive green on the shell with anodized silver action and directional buttons and top bumpers, grey paddles and grey rubberized grips acting as a perfect visual compliment for the latest Call of Duty.
By far, the Impact delivers on its name, best served when in the midst of an intense first-person shooting session and critical for those humans, amateur or professional, committed to video gaming.
Note: The current version of Impact is only compatible with supported PS4 games on Sony's latest entertainment console, the PlayStation 5 and is not compatible with native PS5 games.
Since it's the holidays, also help gamers stabilize their posture during brutal sessions of Call of Duty with the Exo Scuf ($39.99). Essentially a blow-up, u-shaped cushion, it's used to envelope the mid-torso while seated. It should reduce tension in the appendages, hands and wrists while offering a comfortable shelf for resting forearms.
The Exo uses a durable PVC inflatable bladder enveloped in a soft case (double-stitched around the edges) and heavy nylon zipper to access it and comes with a black polyester carrying bag.
GSP 670 (EPOS / Sennheiser, $319) — After hours of uses and abuse, I am fairly confident in proclaiming that this pair of premium wireless over-the-ear headphones is not only a trusted delight for gamers but anyone in need of a close-quarters aurally enveloping experience.
The combination headset and attached boom microphone offer both 2.4 GHz radio (using the included dongle) and Bluetooth 5.0 wireless connectivity with roughly a 20-foot range.
Separate onboard volume wheels for chat and game audio allows for the perfect balance of low latency aural productivity, and the flexible attached microphone boom arm can also be lifted to easily mute the chat function.
Gamers can expect roughly 16 to 20 hours' worth of battery life on a single charge (depending on using the Bluetooth connection or the dongle), and the onboard technology also includes a seven-minute quick charge to get an additional two hours of sound from the headset.
While on the topic of playing in the virtual realms, EPOS Gaming Suite for Windows 10 offers a surround sound experience with a range of preset audio profiles to enhance gaming genres or custom controls to equalize sound and make microphone adjustments.
Weighing less than a pound, the headset delivers maximum comfort with Memory Foam ear pads and a padded top of the head brace for longer gaming sessions.
For the PS4, a player uses the included dongle to plug right into the entertainment console, and with the press of a button on the headsets connects instantly.
The dynamic neodymium magnet-enhanced speakers deliver a deep potent bass and equally impressive highs whether deeply entrenched in an explosive battle or listening for enemy chatter when on a stealthy mission.
Additionally, with the onboard Bluetooth, gamers can connect to an external audio source such as a smartphone to make calls or listen to music while away from the action.
Backbone One (Backbone, $99) — iPhone owners looking to play some of their favorite versions of big-budgeted console games remotely have a new controller to make life easier.
Looking like two Nintendo Joy Con controllers, the device has an expandable bridge between them that clamps the phone in place while gracefully plugging it into its onboard male lightening connector.
The Backbone offers two clickable thumbsticks, a directional pad, four shoulder triggers and four action buttons (labeled X, Y, B and A), pretty much what one would find on standard Xbox and PlayStation controllers.
Download the required software app that launches when the phone is plugged in to immediately present a helpful tutorial and eventually land on a menu screen that conveniently recommends games from the Apple store.
Downloading near every selection led to hours of entertainment with mechanical and interactive help from the Backbone.
Picks worthy of immersion include the person-shooter Call of Duty: Mobile (free); the side-scrolling fighter Brawlhalla (free); the driving simulation Asphalt 9: Legends (free); the gold standard of football simulations Madden NFL 21: Mobile (free); and the massively addictive world builder Minecraft ($6.99).
The app also has some social bells and whistles including setting notifications when friends want to play and the ability to share videos and screenshots with friends (1080p at 30 frames per second) with a tap or hold of the left handle's multimedia button.
Besides the controller array, the device also features a lightning port pass-through on the right handle to continue charging the phone and a 3.5mm headphone jack on the left.
For those looking for a compact way to enjoy handheld video games without the costs of a full gaming system, the Backbone delivers responsive performance and a comfortable deign at a reasonable price.
The only thing missing in the package is some sort of protective case or bag because I am guessing young and old will be taking the Backbone for extended road trips.
Note: This device is built exclusively for an iPhone that's compatible with iOS version 13.0 and above.
The Games
Now, let's add some gifting examples of the better virtual experiences to take full advantage of the peripherals.
Call of Duty: Black OPS Cold War (Activision, rated M, reviewed with PS4, $59.99) — The latest edition to the premiere first-person combat shooter offers a nostalgic dive back 1980s and to the days when Ronald Reagan ruled the White House and the world was frozen in a Cold War.
A too-short, "so what else is new," solo campaign plays out like a blockbuster action film as CIA officer Russell Adler and his team pursues mysterious Russian agent Perseus looking to decimate U.S. national security and shift the balance of power to motherland.
That leads to plenty of cinematic moments such as chasing a plane in a vehicle as it attempts to take off while hounded by enemies, going on a flashback mission in the middle of the Vietnam War and infiltrating the KGB headquarters.
After playing the interactive movie, dive into multi-player where six versus six, 12 versus 12 and up to 40 warriors (10 teams of four players each in the new mode Fireteam) battle across roughly a dozen maps including my favorite, the recently released 1980s inspired Nuke Town based on a fictional radiated municipality in Nevada discovered in 1984.
Despite the explosive campaign and multiplayer intensity, greatly enhanced by game mechanics more akin on COD's Modern Warfare franchise, by far the best part of the latest COD for this gamer is the refactored Zombie mode.
With a new plot enhancing the previous Aether storyline, new characters and hordes of Nazi undead overruning a World War II bunker and its surrounding areas, the mode is as gorgeous as terrifying to take part in through either a solo or up to four-player cooperative mode, including the ultimately painful Zombies Onslaught challenge for a pair of victims.
Not only is it much easier to interact with the environments, but players will actually feel like they have a chance to survives the waves of flesh-eaters.
Assassin's Creed Valhalla (Ubisoft, rated M for Mature, reviewed with PS4, $59.99) — The latest saga to the 13-year-old, open world third-person action franchise looks to the historical struggles of a group of stealthy killers taking a solo player back to 873 A.D. and the Vikings invasion of Britain.
Controlling either a customizable male or female version of the Viking raider Eivor, the player relies on less stealth and more hardcore brutish combat as he works with his fellow conquerors to raid enemy towns, attack fortresses, build settlements and, most important, kill all warlords along with their minions in some of the bloodier action seen in the history of the games.
Exploring the entertaining Dark Ages, the player moves from Norway to pillaging four Anglo-Saxon kingdoms in a vibrant cinematic story that manages to mix Nordic mythology with themes of honor and family amid the slaughter.
Game mechanics encompass many routines one might find a Viking might need, including riding on a horse; calling in a longboat loaded with brethren with a mighty horn; wielding a spear to go fishing; unleashing a rapier wit to win a round of poetic insult challenge flyting; and using the companion raven Synin to scout locations from above.
Moments sure to thrill include an impressive battle against the mythological monstrous wolf Fenrir, and even going on an epic quest to assemble all of Thor's armor and his favorite weapon to ultimately wield the power of the hammer Mjolnir.
The sprawling world beckons players to conquer the main and side missions, and they can expect being immersed into the game for upwards of 60 hours.
Crash Bandicoot 4: It's About Time (Activision and Toys for Bob, rated E10+, reviewed with Xbox One, $59.99) — One of the superstars in the history of video games returns to once again save the universe in this challenging and colorful frenetic three-dimensional action platformer.
The spinning orange marsupial Crash is back to thwart the interdimensional plans of his archenemies Dr. Neo Cortex and Dr. N. Tropy by collecting and wielding the powers of four Quantum Masks to restore order to the multiverse.
Players run Crash through an environmental obstacle course of more than 40 levels of action spread out over 11 locations, with abilities to control time and gravity.
The animated rodent collects precious Wumpa fruit, gems and VHS flashback tapes (unlocking more levels) while smashing limitless crates and surviving massive bosses by swinging, bouncing, grinding, sliding, wall running and walking on ceilings.
A player can eventually take control of a total of five different characters including Crash's younger sister Coco, friend Tawna, the evil minion Dingodile and even Neo Cortex using a ray gun to tackle the challenges.
Veteran gamers have a choice to play with Retro Mode (limited lives and a level ends if the player runs out), or less accomplished players will stick with Modern Mode offering  unlimited replay of the level but placing an ominous death counter in the corner of the screen.
Multiple gamers can also take part in the action via a passive Pass n' Play cooperative option that involves literally passing a controller over to a pal at a specific check point in a level or after a death. The game also keeps track of individuals fruit collected, crates smashed and deaths.
Watch Dogs: Legion (Ubisoft, rated M for Mature, reviewed with Xbox One, PlayStation 5, $59.99) — This third installment of a open world style, third-person action game takes place in a futuristic, dystopian version of London and beckons for the single player to get lost in a gritty urban setting through a story of high-tech espionage and anarchy.
A player controls members of the hacker organization DedSec that needs to clear its name after being framed for a bombing attack on the city by a rogue group called Zero Day.
They recruit average citizens to join their cause, which also looks to fight the oppressive military contractor Albion, challenge the dark web criminal syndicate Clan Kelly and take back London.
The game's big feature is being able to choose characters to control through recruiting with nearly any citizen being  brought aboard, each with his own skill set. The slick trick even allow a player to choose a permadeath option that will eliminate any currently used character if he dies, offering another layer of decision-making strategy to the recruiting process.
The action features slick tech such as hacking almost anything from drones to surveillance cameras and vehicles, security cloaking, unleashing electrified spider-bots and high jacking explosive traps along with traditional close quarters combat (OK, maybe using a nail gun is not traditional).
Characters walk, drive and take public transportation to get around a city filled with familiar landmarks such as the Tower of London, Buckingham Palace and Covent Garden, all open for exploration.
Suffice it to report, Watch Dogs: Legion offers another exhausting universe packed with clever entertainment.
Mortal Kombat 11 Ultimate (Warner Bros. Interactive Entertainment, rated M for Mother of all the Matures, reviewed with Xbox One, $59.99) — The grandaddy of side-scrolling fight games returned for another staggeringly realistic iteration last year and now offers a special, "ultimate" edition packed with all of the previously released warriors and content sure to please pop culture fans. 
Players can work through a pair of a pair of cinematic stories that feature the architect of time, Titan Kronika, trying to rewrite history with an all-powerful hourglass. They can dive into modes including the Towers of Time and Klassic Towers (one character fights his way up a structure) and the Krypt (play as Descendant of Apep and explore tombs on Shang Tsung's island in this third-person action challenge).
The game features 37 customizable characters that pretty much encompass the history of the franchise including Johnny Cage, Raiden, Sonya Blade, Scorpion and Shang Tsung as well as adding the pop culture superstars Spawn (voiced by the actor Keith David who played him in HBO animated series), Joker, Robocop (voiced by his movie counterpart Peter Weller), the T-800 model Terminator and John Rambo.
It's worth noting that Rambo also features the voice of Sylvester Stallone as well as his various outfits seen in the film franchise and familiar weapons, i.e. that nasty crossbow. Also, for those who do not want to see the legend fatality kill an opponent, friendship options exist to show him hugging a big stuffed teddy bear, taking flirty memes or enjoying the innards of a candy-filled piñata.
And, anyone in love with the Terminator franchise will find it impossible not to be mesmerized as the T-800 (Arnold Schwarzenegger likeness) fights in his "Dark Fate" form (greying hair) and even offers a point where his fake flesh melts off revealing his metallic endo skeleton still on the attack.
As always, the player versus player battles ooze with gore and eye-popping, literally, bloody visuals, especially with those famed fatalities making the experience as jaw-dropping for a player as a disapproving parent.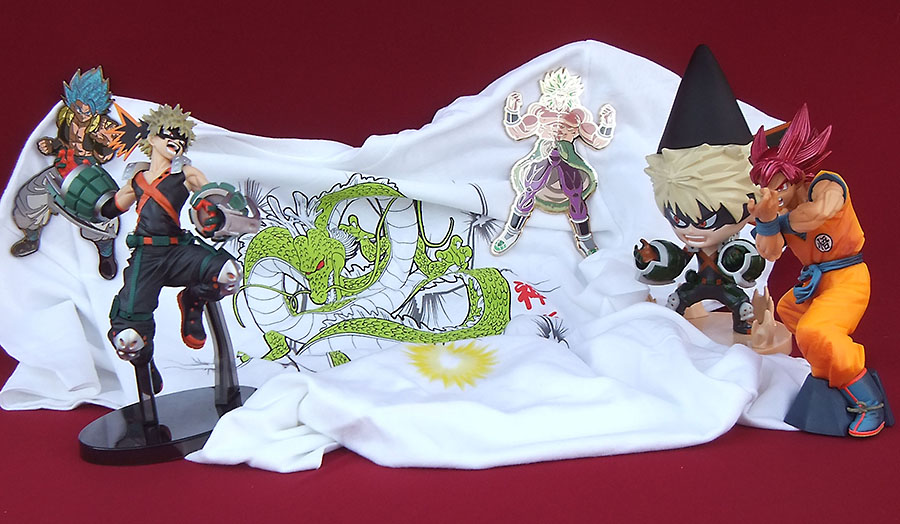 Collectibles and fun stuff
Now let's take a break from the games and appreciate some Japanese anime and manga has been a fruitful source for video game franchises over the years. Here's a look at some gift ideas of the cool merch from two franchises "Dragon Ball Z," and "My Hero Academia" from North American distributor Funimation.
Katsuki Bakugo (Banpresto/Bandai, $19.99) — As part of the Amazing Heroes Vol. 3 collection, this impressive PVC figure offers "My Hero Academia's" Katsuki Bakugo in a jumping, mid-strike pose ready to unleash his explosive powers.
Detail abounds in this 7.5-inch-tall figure starting with his angry, mouth-opened expression, spiked beige hair and orange-and-black anime style flares jutting from the back of his head.
Next, marvel at the silver-and-green, grenade-shaped gauntlets covering his forearms with orange gloves exposed and black boots with straps in mid-motion. Bakugo is complete with his orange-and-black clothing and a grenade belt at the figure's waist.
He gets attached to a dark translucent base with a pair of mounts to keep him in place.
By far one of the more impressive and affordable pieces from Banpresto.
Broly and Gogeta (FiGPins, $49.99) — Exclusive to the Funimation website, this pair of 6-inch-tall brightly polished, weighty metallic enamel pins showcase two of the famed mortal enemies of Dragon Ball Z franchise from the 2018 film "Dragon Ball Super the Movie: Broly."
Owners get a Gogeta with spiked metallic blue-hair and a Broly with spiked florescent green hair and bright purple pants. Each include a soft plastic translucent stand to hold the figures up that also can work to pin the figures to a cloth display wall.
Gift givers can also add a Dragon Ball Z T-shirt (Ripple Junction, $8.99) featuring the green dragon Shenron emerging a crackling ball in a 100 percent material.
Katsuki Bakugo and Izuku Midoriya Garden Gnomes (Surreal Entertainment, $54.99) — A pair of slightly over 8-inch-tall PVC figures offer a battle of sometimes friends and longtime rivals of the super-powered "My Hero Academia" universe. The spiked yellow-haired Bakugo arrives with masked eyes, green outfit and gauntlets that help contain his Quirk Explosion powers while the green-haired Midoriya wears a blue outfit with white gloves and red boots.
They both are forced to wear idiotic pointed gnome hats while permanently attached to bases. Both also come with spikes to attach to each's base and stake into the ground. However, why anyone would expose these beauties to the outdoor elements is beyond me.
Super Blood of Saiyans: Super Saiyan God Goku (Banpresto/Bandai, $24.99) — This almost 7-inch-tall PVC figure presents the hero of the Dragon Ball universe Goku in one of his most powerful forms as a Super Saiyan god. He's crouched, muscles flexed and ready to launch an energy attack with arms extended and an enraged facial expression.
The figure is impressively detailed with metallic red hair and traditional orange Gi outfit with blue T-shirt, wristbands, sash and shoes and Whis symbol front and back. Owners must assemble the torso to the body and then try to attach a faux-rock foot block to allow the figure to stand on its own, albeit at a slightly odd angle.
My Hero Academia Holiday Ornament Pack (Kawaii Titans Entertainment, $79.99) — This collection of 3-inch PVC figures with oversized rotating heads and articulated arms includes eight familiar characters to the franchise — Katsuki Bakugo, Izuku Midoriya, All Might, Ochaco Uraraka, Shōto Todoroki and villains Touya Todoroki (Dabi), Tomura Shigaraki and Himiko Toga.
A few impressive details worth noting to the set of pintsized stars range from Dabi's spiked, jet-black hair to All Might's ornate painted on costume and Tomura Shigaraki's arms held by six embalmed hands and one larger hand covering his face (like an "Alien" face hugger).
They all included a metallic style loop impaled in their heads and ready to accept a hook to hang on the Christmas tree.
Chrome All Might (Pop! Animation, $17.99) — Celebrating Funimation's 25th anniversary, this "My Hero Academia" hero gets the full Funko Pop! treatment with a silver chrome finish. Standing roughly 6 inches tall with an oversized head, All Might has fists planted to either side on his belted torso in a pose that Superman fans will appreciate.